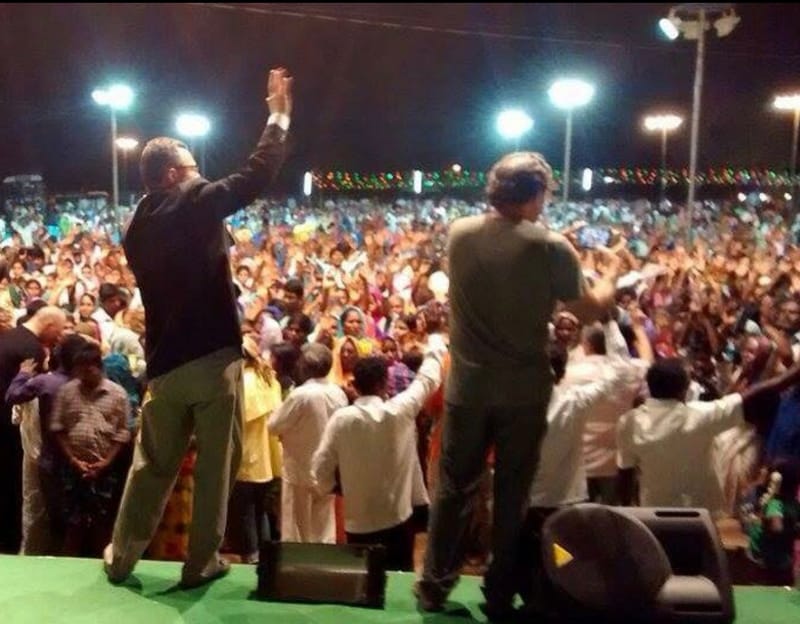 The mission of David Farmer Ministries is to reach the world with the life changing message of hope; the Gospel of Jesus Christ. There has not been a greater need for urgency in Evangelism and Missions then now. It is our desire to partner with the local church both locally and internationally as well to advance the Mingdom. We understand the role of leadership and serve under the authority of the Senior Pastor and serve along side the Church staff to effectively plan, prepare and provide the most effective outreach event for their congregation and community. Through a variety of options for outreach and training you can select what will be the best fit for your congregation and community. We seek to reach the lost and equip the saved in order to ignite a passion for reaching others. Below you can find a list of events that we offer. Please click the appropriate button above for a more detailed description of each.
Cocaine to Christ
- David's personal testimony of the conversion of a major " Drug Dealer " to faith in Christ. A great outreach event for Student

Each One / Reach One -
Designed to involve every member of the Church in Evangelism and Discipleship. A congregation wide outreach event that can will increase weekly attendance and assimilation.
Freedom Event
- David founded
Crisis Rescue International
to Reach, Rescue and bring Redemption to Children in Human Trafficking and Sexual Exploitation. through powerful stories od rescue and redemption of children in the 10/40 window of Southeast Asia. We currently are working and caring for children in Pakistan, Cambodia, India, Thailand and Nepal.
Devadasi Ministry
- Young girls are dedicated to or married not to men; but to an idol, deity or object of worship or to a temple deity. These young girls are married to a Hindu god or goddess before puberty, the Devadasis ( Female goddess ) or Joginis ( Male god ) many of them live at the temples and serve men who come to the Temples and give money to the Hindu Priest. The ritual and process these young girls go through to become a prostitute for an god (idol) includes the sale of their virginity to the highest bidder in the village. Abused both physically and sexually until the young girl is pregnant; then she is discarded to the streets to beg and sell herself. Most of these girls are 8-12 years of age.
Missions opportunities
- Opportunities to travel and serve with our team internationally. Church planting, Large Crusades, Serving in our Children's Homes, Leper Colony Ministry and Pastor's Conference's are just a few of the opportunities to serve. We understand that the Lord has given each person specific gifts and talents and we seek to allow individuals to use those gifts and talents on our mission campaigns.
Soul Winning Workshops
- These can be used through Sunday school, student ministry or Church wide. We teach and train how to effectively share our faith in every day settings. Through the use of a variety of Evangelism tools we teach how to engage in a natural conversation and convert it into a spiritual one. We truly believe the Evangelism is not a presentation; but a conversation and people love to talk.